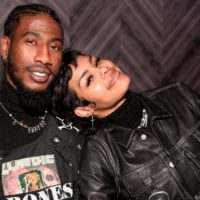 Love is (still) in the air for Iman Shumpert and his wife, Teyana Taylor. 
To celebrate their six-year anniversary, the pro baller gifted Taylor a Corvette filled with red roses. 
"You've pumped my brakes and fixed me up every time I had bump or bruise," he wrote, sharing images of the new ride in a heartfelt Instagram post.
"Men love the stories, the headaches and the delicacies you have to put into refurbishing an old school because once it's done and back on the road you can truly appreciate the time and the times you have in it. It makes a statement to your inner self that no one could see this but you!" Shumpert said. 
He added, "Years ago I told you I wanted a family and you gave me that. I bent my knee to you and you accepted my headache and trauma."
Shumpert explained why he purchased an old-school car versus a more modern one. 
"So yes, I could've gotten you a brand new car…but this car will symbolize a relationship that's been thru it all. The nostalgia of the corvette you wanted is heard but I want you to dress this one up little by little like we've done in this 6 years… I love you Mrs Shumpert. Year 6."
Taylor took her to IG to share her own post of the special gift and a few images of the couple over the years, a few of which included their daughters, Iman "Junie" Shumpert Jr. and Rue Rose Shumpert.
"There isn't a day, minute, second or breath that I am not in love with you," she said. "Year [six] as one & forever more to go. Happy wedding anniversary my love @imanshumpert.
Copyright © 2022, ABC Audio. All rights reserved.