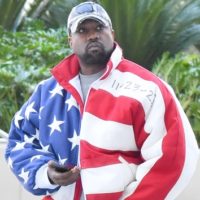 The School of the Art Institute of Chicago has revoked an honorary doctorate awarded to Kanye West.
In a statement released Thursday, the college announced the decision was made following offensive remarks the rapper made about the Black and Jewish communities.
"The School of the Art Institute of Chicago condemns and repudiates Kanye West's (now known as Ye) anti-Black, antisemitic, racist, and dangerous statements, particularly those directed at Black and Jewish communities," wrote SAIC officials. "Ye's actions do not align with SAIC's mission and values, and we've rescinded his honorary degree."
Ye received the degree in 2015, but his recent controversial remarks brought the honor into question, prompting the launch of an online petition that called on the college to revoke it.
"Regardless of his contributions prior to receipt of this award, it is harmful to allow Ye, as he is presently known, to continue to use the School of the Art Institute of Chicago to help legitimize hatred and violence," read the petition. "This harm impacts the artists, designers and scholars affiliated to the School of the Art Institute of Chicago and their values of justice, compassion, and free expression without hatred."
The online petition had collected 4,130 signatures as of Thursday morning, when the decision was announced.
An update on the petition page shared SAIC President Elissa Tenny's statement, in which she says rescinding Ye's degree was "a difficult decision to make."
"Though we firmly believe in the right to express a diversity of opinions and beliefs, the severity of his behavior made it clear that rescinding this honor was appropriate," she continued.
The rescinding of Ye's honorary doctorate is the first time a degree has been revoked in the school's 80-year history.
Copyright © 2022, ABC Audio. All rights reserved.